Four Seasons Lettuce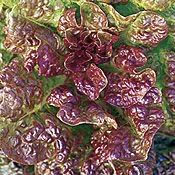 Lactuca sativa
Heirloom
6-10 in. Hardy Annual
A classic heirloom lettuce from France introduced before 1885, this round, red butterhead has incredible taste and reddish-brown outer leaves that cradle a creamy heart. Fast-maturing, all-season compact head. Easy to grow. Sow 2 seeds per inch directly into soil as soon as it begins to warm, 6-8 weeks before the last spring frost. For earlier plants, start indoors 4-6 weeks before transplanting into the garden. Enrich soil well with mature compost. Harvesting tips. Thin plants when they have 4 true leaves. Harvest outer leaves when young, entire head when mature.
Planting Depth: 1/4"
Soil Temp. for Germ.: 40-80°F
Days to Germ.: 2-15
Plant Spacing: 8-10"
Days to Maturity: 45-55
Full Sun/Partial Shade
Water Often
Pack weight .500gms
~ 450 seeds
Lactuca sativa
: The purpose of our ongoing lettuce evaluations and seed productions is to enable the home gardener to grow tasty salads year-round with minimal effort. By utilizing different varieties of lettuces and different cultural practices, a fresh salad is never farther away than your garden.
CULTURE
: Most lettuces are hardy, cool-season crops that can be planted as early as the soil can be worked. Many do best when the air temperature is between 60-70°F, and will germinate well at soil temperatures as low as 40°F. Choose heat tolerant varieties for summer plantings. Lettuce can be sown either directly into the garden or started indoors and transplanted. With succession plantings every 3 weeks, you can enjoy fresh salads all season. A cold frame and cold-hardy varieties can stretch the spring and fall growing season into the winter months. Optimum soil temperature range for germination: 40-75°F. Days to emergence: 2-15.
TO DIRECT SOW:
Sow seed 1/4-1/2 inch deep, 1 inch apart, in rows 16-18 inches apart. Cover seeds lightly and firm gently. As soon as 2-3 true leaves have formed, thin loose-leaf types 10-14 inches apart and icebergs, bibbs, and romaines 12-16 inches apart.
FOR TRANSPLANTS
: Sow 3-4 seeds per inch in sterile seedling mix 3 weeks prior to planting out. Transplant individual plants into pots or cell trays 2 weeks after sowing. Before planting outside, harden off for 2-3 days by reducing water and placing outdoors in a sheltered location. Leafy green vegetables require a moderately fertile soil. One cup of our complete fertilizer per 10 row feet will provide adequate nutrition.
INSECTS/PESTS:
Most lettuce grows quickly, so pests aren't a problem. Aphids can be washed off with a strong spray of water, and slugs can be controlled with diatomaceous earth, slug baits, or traps.
HARVEST:
During the warmer seasons, lettuce remains in prime eating condition for about 3 weeks. While picking individual leaves helps extend the season somewhat, all eventually become tough and bitter as they begin to bolt. We've found that rinsing lettuce under warm tap water can help reduce bitterness.
SEED SPECS:
Minimum germination standard: 80%. Usual seed life: 3 years. Sampler will sow 15 row feet. Approximately 800 seeds per gram; 28 grams per ounce.
----------
PURCHASED:
1/2g from Seeds of Change via Garden Fever March '09. $2.99
STARTED SEED:
4/10/09. Sprouted 04/13/09. Three days. =)
HARDENED OFF:TRANSPLANTED IN GARDEN:DISEASE ISSUES:INSECT ISSUES:HARVEST YEILD & DURATION:OTHER NOTES: