Today turned out to be amazingly wonderful. It was sunny, warm and the perfect temperature for gardening: 65°F. I even had to wear sunscreen! It felt so good to just breathe in the sunshine and warmth and smell the flowers and get my hands dirty. I really focused mostly on cleaning up the beds in the front yard today but did manage to plant the last round of spinach in the kitchen garden this morning. It's a good thing considering it's starting to get late to plant spinach, not too late mind you but definitely toward the end of the proper time frame.
The nice thing about working in the front yard is I get a chance to visit with the neighbors. We don't see each other all winter with the dreary weather. I think *everyone* was outside today! I didn't get done nearly as much as I was hoping to but I had a nice visit with at least eight neighbors!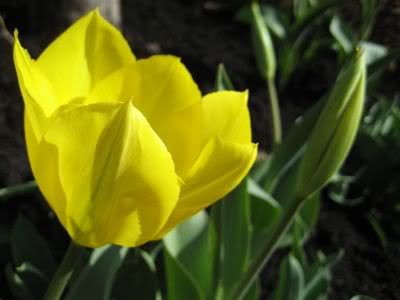 1" of rain since last Saturday.
... and I ran into a few friends today. The other lady bug was too fast to get a good picture of. I also came across more pests then I like to see too. Cut worms are mine enemy! And the snails love the New Zealand Flax... probably because predators (myself included) can't get at them way down at the base where they're hiding on the big wide leaves. I can see them though and it just makes me crazy. I should put out some beer bait while there's no rain. It might be a loosing battle. I wonder how much salt the flax could handle....
Lastly, can anyone tell me if this is a fly or a bee? It looks like a bee but it was really acting very fly like. Weird.
Oh and how could I forget to mention this? I got a free yard of compost today! I took the pickup to get a load and the girl that I usually give my $$ to was so busy with taking phone orders, etc. that she couldn't even be bothered to take a payment from all of us standing in line. One of the drivers came out and told the two guys in front of me, who were dropping off yard debris, to just drop off their stuff and if they had a $20 bill to come back and just leave it at the window. He then turns to me and says to just go ahead and get a load and come back another time to pay them! How nice! So yeah. It's not really free cause I'm honest like that but it's fun to think it's free for awhile. ;^)
Weather: 54.6 °F and Clear
Humidity: 38%
Dew Point: 29 °F
Wind: 2.0 mph from the SSE
Wind Gust: 12.0 mph