My potatoes apparently LOVE where they're at. They're taking over everything. I actually had to corral them yesterday to keep them from getting any more crazy ideas. They've already shaded out all my spinach, which I got three leaves from. Foo! (I finally get it to grow and then don't get to eat any of it. ::sigh::) They pushed over two broccoli plants and are crowding out the peas now too. Dang it! I wish I had a separate spot for potatoes that didn't involve the garden beds. I might have to really do something about that next year. Of course with the new "potato collar" it sure does make hilling up a lot easier! I was thinking they'd be a bit more slow growing and the peas would've had a chance to get a little taller then the spuds. With the collar in place I don't know what'll happen with the peas and broccoli behind it... probably they won't get enough sun. Shoot. I like potatoes and all but not sure I like them at the expense of my peas and broccoli. ::grumble, grumble:: At least I have potato leek soup to look forward to later in the summer... mmmmm. =)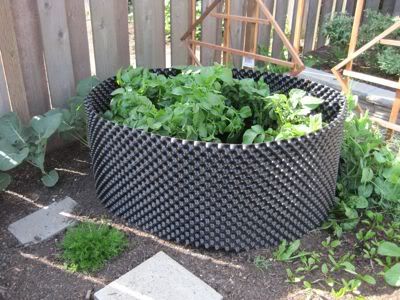 On the bright side the thyme is in bloom and the bees are loving it...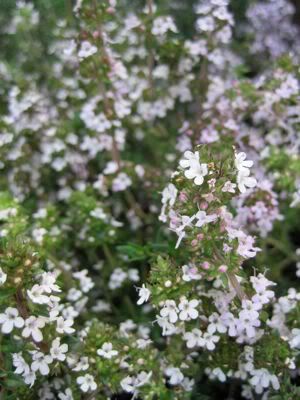 Also all the bush and pole beans have sprouted so that's lovely too.