My poor laptop took a coffee bath the other day thanks indirectly to the kiddlet. All the keys started to stick and wouldn't type! It wasn't pretty. However, now it's been pulled apart, cleaned and is drying. I'm using a hacked together computer (external keyboard and mouse attached to the laptop sans it's original keyboard) to type this up. At least it still works - whew~ aren't computers fun? But enough of that, how about a few garden shots? =)
Here's the latest harvest for a salad ...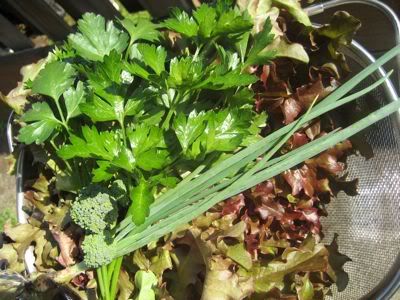 Little tiny yellow crook neck squash are starting to come in - yay!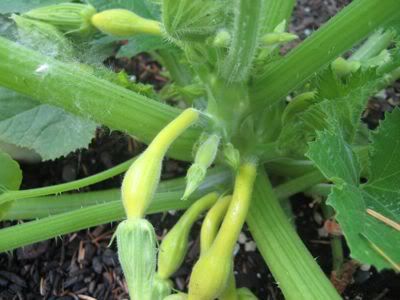 I love the color of the All Blue Potato flower, so pretty.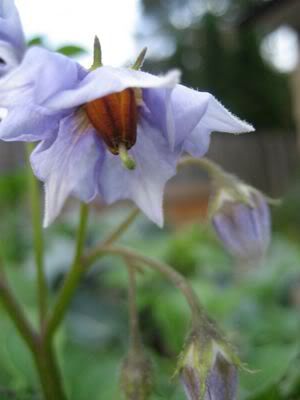 My hot pepper is starting to bloom too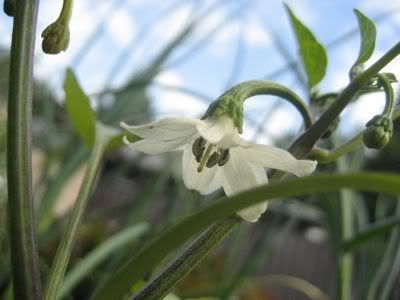 ...and the spinach that wouldn't. This is the biggest of the big of all my spinach and it's only about 5" tall and the saddest thing I've ever seen. I'm gonna have to work on this next year.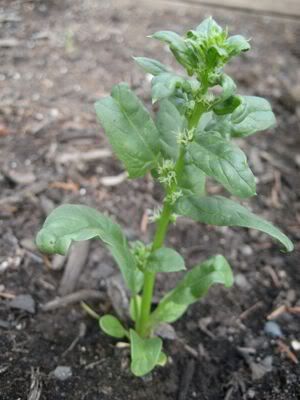 Overall the garden is lookin' pretty good though. The compost tea I think had some beneficial results. I had a daliah that was struggling with a fungal problem which now seems to have cleared up. I also had a salvia that would just wilt in the afternoon no matter how much water, fertilizer, compost or what-have-you. It's slowly recovering. (Amazing since this has been going on for a few years). I think it'll be 100% with another application or two. Nice! Otherwise everything else just looks healthy and thriving.