We had a crazy weekend working out at the green gym (the back yard makeover continues*)... too bad there was less green and more dirt-work then we would've liked. DH shoveled out FIVE TONS of dirt just to get the area level. That's five extra-full truckloads of dirt that not only were not only shoveled out of our yard and UP into the truck, but then we helped people shovel them out of the truck and to various garden beds, tarps and laws, etc. Poor hubby moved ten tons of dirt manually. He had spaghetti arms on Monday, lol.
I helped but mostly someone had to watch our kiddlet. For a while were were able to put her on the WRARP (Worm Rescue And Relocation Project). Still there's only so much interest that a 3yo can give worms... she did like the screaming part though. (She was moving the worms from the dirt into the cooler parts of the compost pile). We also found some sort of milky white 1/8" bug eggs in the soil that she had fun popping with her fingers. Okay, EW. Why would she scream at worms but feel perfectly comfortable squishing bug eggs with her bare hands?
This is where we started (adding this photo in again for the new kids)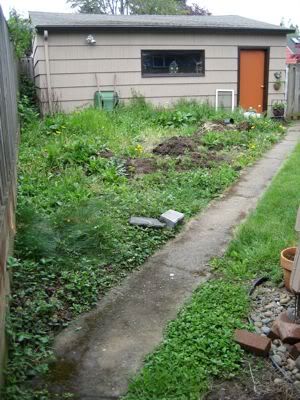 This is where we finished up last night - look I even found my banana plant (see potted bit in the front) which I thought had been completely choked out by the weeds or killed by the hard winter, but no - it lives! Sweet! I've got to find a place for it in the new garden bed. *Squee*! Also there are some of the plants from the abandoned blocks area in the raised bed to the left - one of the ferns couldn't handle the transplant on top of the crazy head winds we had with that thunder storm the other day and all its fronds fell over. It'll live though, it's sending up new fronds. Once the new ones come up I'll cut back the old half broken ones.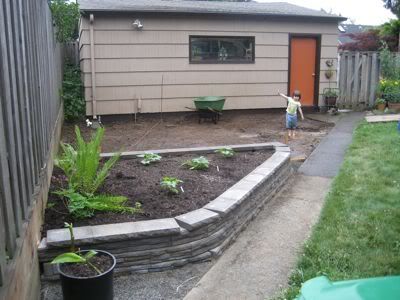 Does anyone know what the flowers are? I knicked them from the front of one of the houses and don't know what they are... sure are pretty though.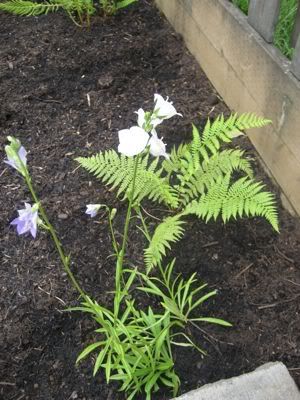 This is where we were two weeks ago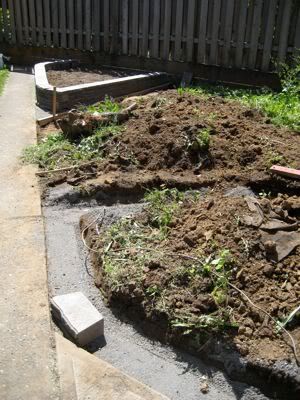 Dirt all gone! Mud puddles abound! Kiddlet had a great time playing in the mud. It was the least I could do for her since she had to put up with a mostly boring day of watching us dig.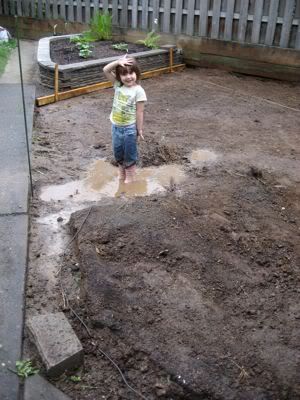 Less exciting for most I do have a compost fan here who wanted to see my pile... Here ya go!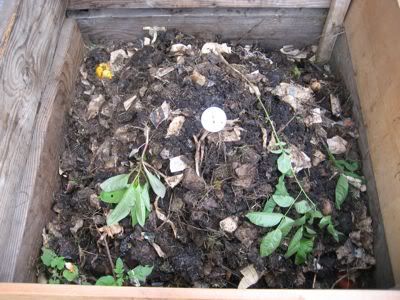 Much more lovely to look at, my first nasturtium about to bloom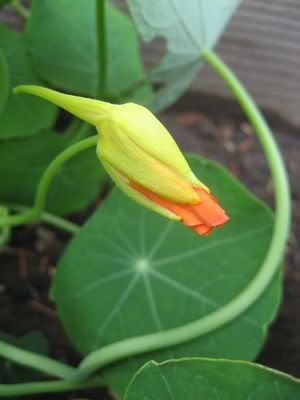 *Have I mentioned how much I love my husband's family? Besides the fact they're really nice and fun their impending presence always kicks him in the @ss to work on house projects! l love it! His Mom will be here in a few weeks to go through Grandpa's house but she will be staying with us. We started this make over last year when she was here and it would be really nice to have it finished before she comes back. That and we want to have a little party. I just want to have a place to sit and really enjoy all the work we've done.