A great big THANK YOU! to
Annie's Granny
for honoring me with a blogger award. I was really very touched.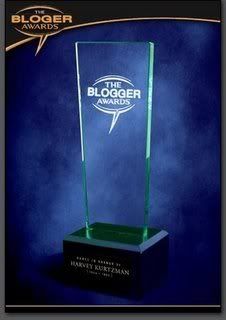 I would now like to pass on this award to several blogs that I find particularly enchanting. I realize that some of these blogs have been recently awarded by others but I would like to note that they really are something special. I've quite enjoyed all of them and I think you will too!
Annie's Kitchen Garden
: 50 years worth of gardening experience here addressed light heartedly and with joy. Not only is there always a pearl of wisdom to walk away with but usually a good laugh too.
Our Engineered Garden
: I've never seen anyone so busy! This guy does it all. If you need to construct anything in your garden take a peek here and you'll see EG building: garden beds, self watering containers, trellises, sheds and more. Also he's got some amazing veggies; I'm waiting to see how he trellises a 50lb watermelon!
Lisa's Garden
: If you have a tiny space and think it's too small to do anything with look here for inspiration. She's really great at getting the "full" garden experience in a tiny backyard. It's impressive! Plus I really just want to sit in her beautiful garden and drink coffee and talk about how well her garden grows.
Randy and Meg's Garden Paradise
: Randy is an amazing photographer. His speciality is in butterflies and dragonflies. I'm always quite impressed at how he can capture so many beautiful images of these colorful little creatures. My only regret is that they are all natives to the East Coast... it has however inspired me to take a closer look at the butterflies in my own back yard of the PNW. They also have a wonderful garden full of (currently) beautifully flowering peas amongst others.
I'm going to leave it at that with a note on two recent blogs I've just started reading that I'm really enjoying. Go check them out too:
Sicilian Sister's Grow Some Food
: Two sisters growing organic food to help feed their families, reconnect with the earth and help raise awareness in their friends and neighbors on the joy of gardening.
The Corner Yard
: A wife, teacher and mom of two who came by gardening accidentally in order to appease a fussy child in a big-box hardware store. He saw yellow pear tomatoes (his favorite color) and they became container gardeners. As it goes with anything involving children, her interest far outlasted his and One year later they have a square foot garden in their corner yard. As long as they can battle the bugs and keep the dog from the soil, there will be some fun to be had!
===
I've also cleaned up my sidebar a bit and took out some old apps and added my gardening book wish list. If anyone's read any of these let me know how you liked them. I think the first one up on the list I really need to get is:
Teaming with Microbes: A Gardener's Guide to the Soil Food Web :: Jeff Lowenfels, Wayne Lewis
. When I first started gardening I was given this little tidbit of wisdom:
90% of gardening is in the soil.
The more I do this, the more I realize this is true. I feel I need to dig deeper and expand my knowledge of just what goes on down there so I can help my plants help themselves.
I still plan on posting a few pictures from Friday when I went with my Mom and Daughter to the
Hulda Klager Lilac Gardens
, I'm just out of time again... Hope to get to it this evening.