I have to mention that this past weekend our Farmer's Market re-opened. I couldn't have been more delighted to have local fresh veggies again.
On the home front things are coming along slowly but surely here. I was able to harvest my first few radishes the other day!  I'm not sure that I'm going to keep a record of how many lbs of produce I harvest this year.  I think I might like to know but I don't actually have a scale.    I should probably invest in one.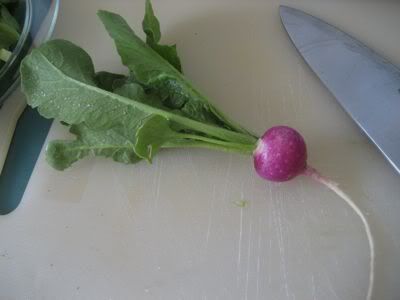 Still waiting on so much more. I was thinking at this point I'd just post pictures of the beds once or twice a month now. It'll be fun to see how they grow up over the season. These were all shot on May 2nd...
You can see the new garlic I planted toward the front and my kiddlet with her blanky and Bebe (the stuffed bear that goes everywhere she does).  There's no compost in the mini bed in front - it's all crap soil just the way nasturtiums like it!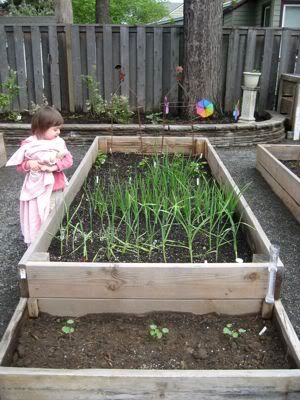 I've taken the boards off of this bed now as the cilantro is finally starting to come up.  You can see the little lilac I bought in the defunct cold frame on the left... tiny little whelp of a thing.  I'm still not sure what I'm going to do with those pumpkins yet either but I better figure it out soon or they're gonna die in those little pots.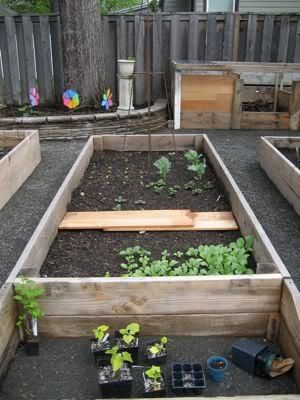 I bought chives to put in the perennial bed since I can't seem to get celery to grow to save my life.  What you can't really see is the asparagus which is nearly a foot high now!  Of course being only one year old crowns they're only putting up one stalk, so they look a bit spindly.  
This is nearly a three sisters garden... I should've planted the pole beans over here instead of the peas... lot of pumpkins, squash and corn. BTW all the corn I planted sprouted except one - that's a great germination rate.  You can just barely see them down on the right toward the front.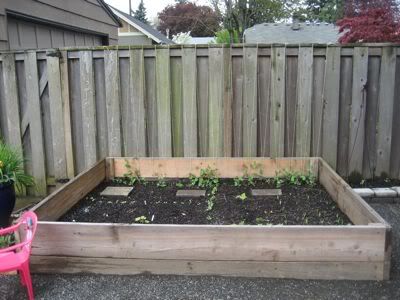 The flowers in the pot are nearly spent now but the sage is starting to bloom and it's quite pretty.  The mint is starting to fill in nicely too but that's to be expected.