It was nice to have flowers on the table for Easter that I didn't have to go out and buy...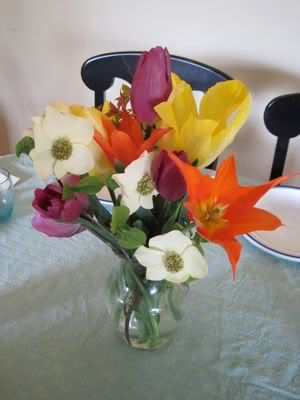 Now if only the veggie garden were producing already! Oh how I long for fresh peas.
I haven't been writing too much about the garden but I've certainly been busy! Next week this list will double as our average last frost date is about to pass (April 16th) and I can really get going with putting plants in their beds.
TO DO:
Update PC (perpetual calendar) with info on lilacs, grapes, annual flowers, lawns and bulbs.
Mulch under fruit trees
Plant asparagus root crowns
Buy four more to replace that one's that didn't overwinter
Sew icicle radishes in squash bed
Prune peach tree
Seed more head lettuce indoors
DONE
Up-pot peppers
Up-pot toms
Seed beets outdoors
Seed carrots outdoors
Harden off and transplant brussels sprouts
Harden off and transplant loose leaf lettuce
Seed melons indoors
Seed summer squash indoors
Fertilize peach tree
Side dress peas with bone meal and complete fertilizer
Side dress broccoli with blood meal
Ran out of dirt! Go get more and some blood meal to boot.