Well not having a computer has really been a big stinker. I miss you guys!! I hope by October I'll be back in business.
::waves:: Hi to Momma_s and Sue the newest friends of Gamine's Garden! =)
THE GOOD:
In the meantime the garden's been doing well in general. My green beans have been going nuts but they're almost done now. I was hoping to can some of the last of them (Dilly beans) but realized that I didn't plant any dill! Oh noze. I love pickled beans. We've been eating them steamed and sautéed but I'd really like some pickled one's as hors d'œuvres at Thanksgiving. I must remember to plant more next year.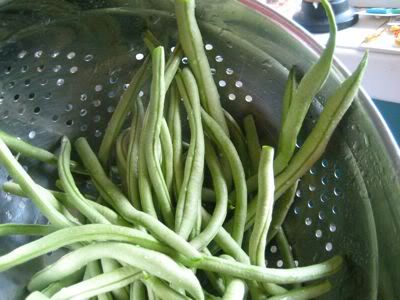 My carrots are also coming in and are quite delish! The purple one's don't taste any different then the orange ones but they are fun to look at. Cooking them didn't diminish their color either which was fun. The orange one's grew a bit more vigorously then the purple's. I'm planning on reds as a fall crop. We'll see how those do.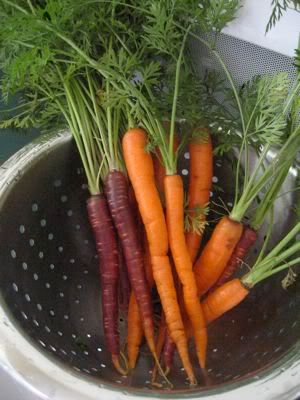 Many of our flowers are in bloom now too...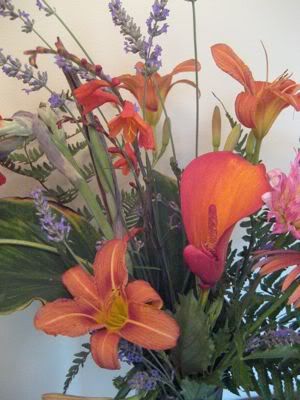 Since my preschooler is worse then the squirrels and jays when it comes to eating the berries out of our yard we went to a U-Pick farm a couple of days ago to get some blueberries since there was less then a few handfuls at home! We picked a lot of berries! (No I'm not wearing white stockings - I'm just really that pale!)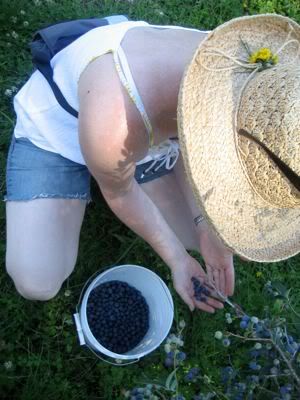 We made jam with them yesterday. Why is it that canning had to take place on the hottest day of the year? I seriously think my sweat was sweating. Ha! It was 115° in my kitchen in front of the stove. We have no AC. On the other hand - blueberry/lime jam and blueberry/orange jam - YUM!
I also need to get a canning rack for the smaller sized jars I used yesterday. The rack that came with the pot was for pints and the jam recipes called for half pints. Does anyone know where I can get just the racks? I assume I'll have to go on-line.
I was a bit smarter today and made freezer jam. It's a good batch too. =) ...and there's *still* blueberries left! I could probably make another batch of freezer jam if I was motivated.
Also pulled a ton of parsley out of the garden. It was crowding the tom's and basil. I coarsely chopped it and it's now in the freezer on a cookie sheet. Later tonight I'll put it in a zip lock freezer bag. It'll be perfect for using in soups, stews and broths this fall and winter. I have a load more that I need to pull and process out of the garden but honestly, I'm tired of standing on my feet.
Oh! And I found the first cucumber on the vine a few days ago. Haven't picked it yet.... though I did harvest all my yellow onions and braided them. So pretty!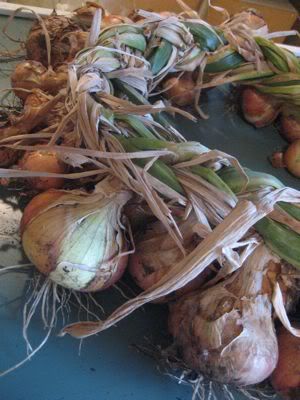 THE BAD:
I'm still having fungal issues with my crook-neck squash. I have yet to eat even one. Foo! I gave the plant a cornmeal/chamomile bath a week or two ago. It seems to have stopped the ramped blackening of the squash (blossom end rot?) but I still have yet to get anything eatable from the plant.
One of my artichoke plants has a raging infestation of Black Bean Aphids. I tried just spraying them off but they were literally back in full force in just a few hours. I need to make a mix of water, oil, and soap to spray them off with.