Oh man. Who needs a gym when you can build garden beds and re-landscape your back yard?
I. Am. So. Tired!
I have a feeling too that tomorrow that sentence will read: I am so sore! I raked up one dogwood's worth of fallen leaves while waiting for compost to show up. Once it got here I shoveled 1/2 yard of compost into the blueberry bed and 1/2 yard into one of the raised beds. I shoveled up a bunch of really wet heavy clay-e clumpy soil (it's been pouring here for days so the earth is *soaked*) out of the walkways between the beds and into the beds...
Picture of pre-dug clumpy heavy wet dirt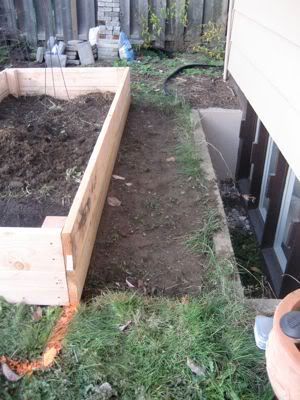 ...then raked it up, tamped it down and lined it with landscape fabric.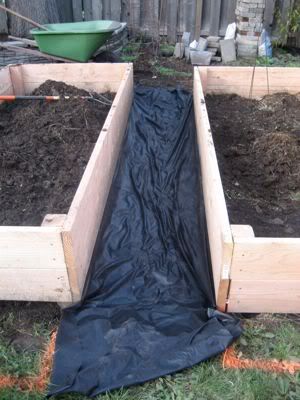 Ran off to the rock place and picked up 1/2 yard of 1/4" minus crushed aggregate which was also soaked by the rain. For those of you who haven't had the pleasure of shoveling wet 1/4" aggregate, it's akin to shoveling wet cement. Bleh. Anyway I got nearly all it into one of the walkways, leveled it, raked it and tamped it down. It looks *awesome*! I think so anyway. I just wish it was all done! So much more to do...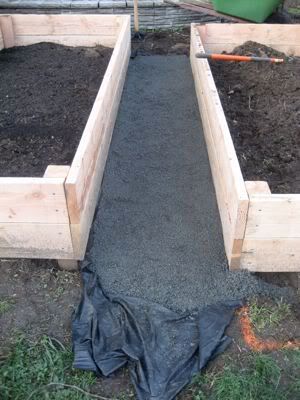 Whew~
And of course overall, it looks like I did - nothing.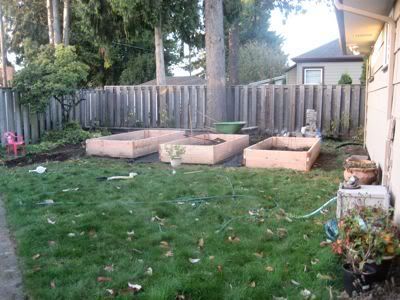 lol... ah well. I think it's supposed to be sunny tomorrow too so if I'm not too dead I guess I'll be back at it. I do have other things on the docket though so it won't be the all day endeavor that it was today. I was also thinking that I could do little ground level beds in front of the raised ones. I would plant things that were good insect attractants like lavendar (bees) and insect repellents like nasturtiums (aphids, squash bugs & striped pumpkin beetles) and peppermint (white cabbage butterflies) etc. while the 1/4" minus would continue in a little path around it. Of course that means I need to convince DH to get the tiller back out and churn up some more of our so called lawn. Heh.