Hello! Since this is my first post and there's no readership to speak of does it really matter what I say? ::smiles and crinkles up nose:: Well yes, I guess it does. It matters what we do when people are looking and when they're not. It matters how we treat ourselves, each other and how we treat the earth. I strongly believe in using organic methods in the garden and leaving the chemicals and pesticides behind. I believe that compost is a great ally. If you start with healthy soil you will gain healthy plants that will be more resistant to disease and pests. When I first started gardening in ernest about seven years ago I had someone tell me that
"90% of gardening is in the dirt"
, meaning that what you do "down there" really effects what comes up - work your dirt not your plants. They couldn't have been more right.
With that said a little history of mine if you will... I didn't start really gardening until I moved to Oregon even though I've always loved dirt (I was a ceramic major in college -
now there's a useful degree
lol). I only wish that I'd discovered gardening so much sooner! I moved into a small rental that had, to my new eyes, "a plot of dirt". I didn't have a very good idea of what to do with it or what state it had been in so I figured it wouldn't hurt to amend the soil with some chicken poop. I amended, tilled, watered and plunked in some starts (many at the *wrong* time of year!) Well I was new. We stayed in that house for a few years and I came to understand the soil and the plants and their life cycle. In the meantime I bought some books and read up on gardening an discovered zones and seasons and cover crops and compost and bulbs and flowers and so, so many wonderful things. I became a gardener!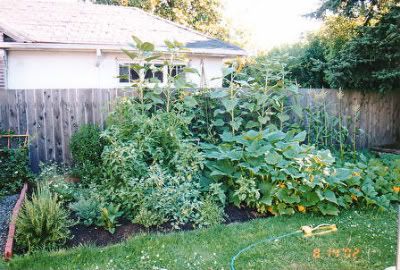 This was my little plot of dirt two years into the world of discovery that is gardening
Then came "the move". We bought a house. I was crest fallen. It was all vinca and mock orange in the front yard and grass and *all* shade in the back yard. How was I going to get a kitchen garden?! There were many things that needed to be worked on and so the inside took priority though I tried to pull out some of the weeds and vines. It took nearly two years before we could take a good stab at the front yard. (Note that DH and gardening are like oil and water so this was a great accomplishment!) I designed the whole front from scratch and we literally ripped *everything* out.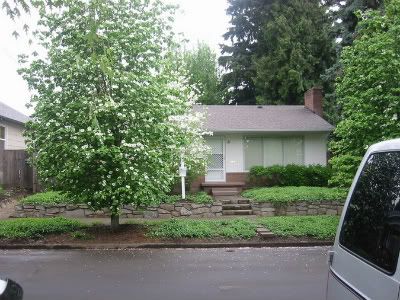 The day we bought the house
Currently
We added hardscaping with the addition of two walkways across our hell strip and a small patio in under the front windows (in leu of a front porch) and a path under the dogwood to the side yard.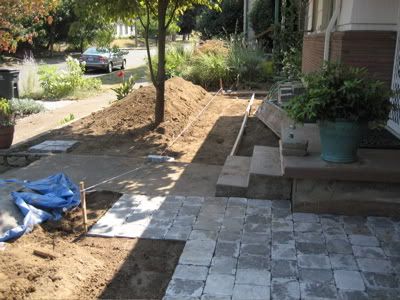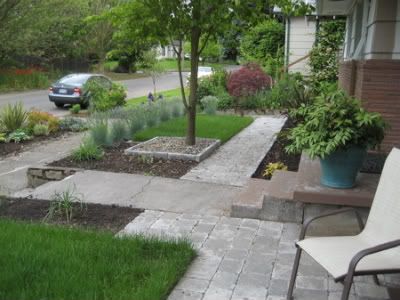 It's funny to look back at how small the plants were! It was such new landscaping then
I also took a stab at the side yard. I wish I could say it still looked this nice. Unfortunately that clover is so invasive that in a matter of months it'd "eaten" up everything again. At this point I'm resigned to leaving the path and the ferns which seem to hold their own against the onslaught of clover. I pulled out all the other plants that survived and moved to my folks house where they are happily thriving - clover free! Their whole yard is a beautiful park like shade garden. This is the only truly shady spot on all of our property (which isn't much either way! lol).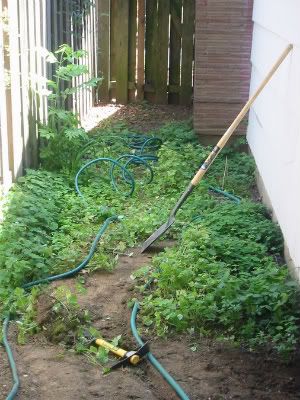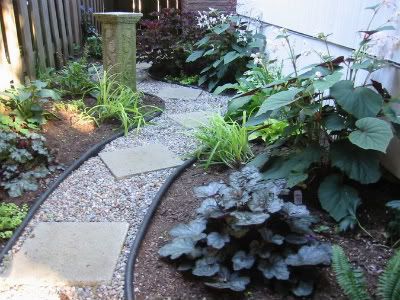 And so now you join us at the point where we're moving forward. I still have the whole back yard to tackle! I've been waiting for DH to make raised garden beds for years now and have given up. I'm taking the bull by the horns so to speak and will be working on the back yard by myself. Just a little a day - chip, chip, chip. I hope you can join me in watching it blossom into a wonderful place to be instead of the annoying weed patch it is. I can't live without my kitchen garden another season. This fall I hope to accomplish so much. And now I will leave you with a photos of some of my delights...