Today was the most perfect beautiful fall day. It was amazing. The air was crisp and sharp and smelled wonderful like wood smoke, freshly cut grass and crinkly dry leaves. I spent the majority of the day outside in the warm sunshine working on the garden fall clean up. I can't believe how badly I ignored the garden this year!
My poor tomato bed was (and sadly still is) a total mess. I never got around to clipping anything back and it became such a jungle that I wound up with very few toms because of A.) bad weather and B.) not enough air circulation. Things rotted on the vine before I could get to them and half of them I couldn't reach in the tangle. Plus the big icky spiders kinda scare me. Heh. (and yes I pulled those big ol weeds in my gravel path today!)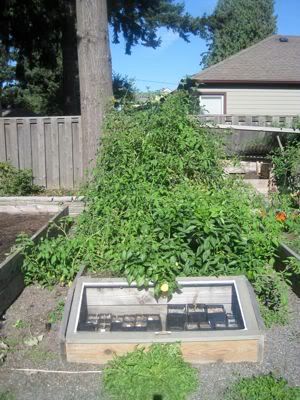 I did manage to clear out the "sisters" bed (corn, beans and squash) which were all long done.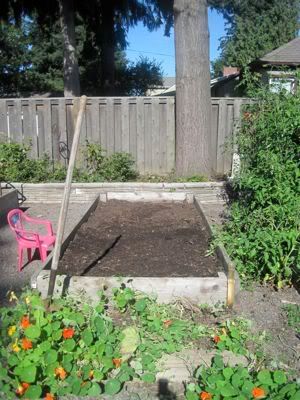 After clearing out the bed I wound up with about a dozen of the sugar squash (off three vines). I'm pretty excited to try these! This was the first year growing them and since I'm pretty much the only one who eats squash in our house these little one size servings should be just perfect for me. I'm looking forward to roasting a few - I'll try to remember to report back in and let you know how they turned out.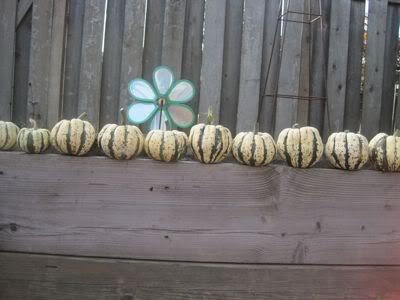 I'm also excited that I finally got ONE of the mini chocolate peppers to ripen. Last year was a total bust. I'm planning on noshing it for lunch tomorrow in a fresh spinach salad.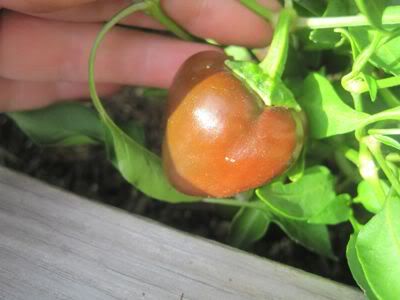 Miss S is also getting to big enough that she's able to entertain herself while I work in the garden. Sometimes she tries to help...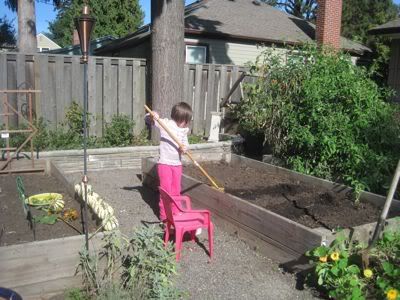 ...and other times she gets up to mischief! (... like "stealing" tools out of my bucket!)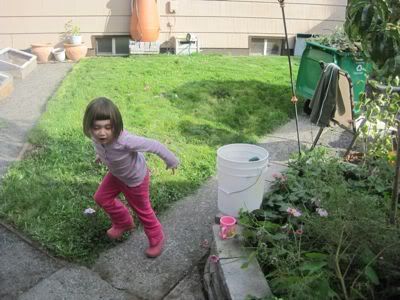 She helped me collect a few things from around the garden today... a few good tomatoes, some jalapenos and a couple of carrots.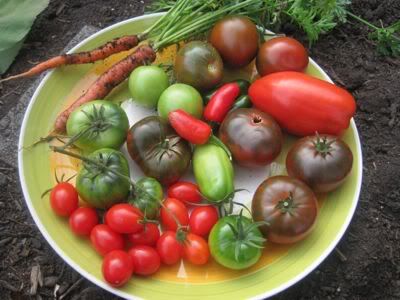 I didn't quite realize just how out of hand things were till I got to really looking at the back corner by the compost and discovered a blackberry vine that had started to take over. I know they're quite tasty and yeah, we ate all the berries we could find today (!) but that doesn't mean I didn't rip that sucker out. They're so invasive here that if I let it go our whole back yard would be a berry bramble in six months. lol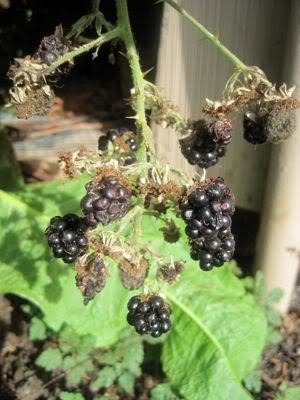 As I was digging out the blackberry root a giant earthworm slowly made it's escape. That baby was huge!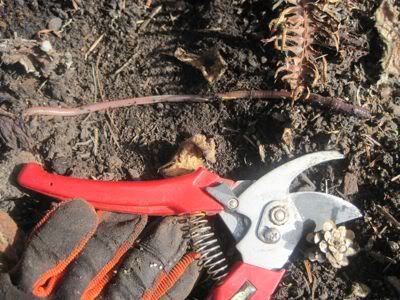 I only wish that I hadn't run of room to put stuff. I managed to FILL three cubic feet of compost bin and two really large city yard waste bins today. I'd have kept going if I'd had a place to put the plant debris. But at least it made me stop and just enjoy the outdoors and my sweet little family this evening. (DH was loitering around in between working on the car in the garage... those berries didn't eat themselves ya know!)