I'm not dead! I swear! I've just been busy, busy and you know how things get when the holidays approach.
Thanksgiving was fantastic. We drove down to Yosemite for the holiday.
Here we are going past Mt. Shasta.
The bird in the smoker after brining all night. It was the most scrumptious thing ever.
We stayed with my SIL/BIL and their kids. They just bought a house outside of the National Park. I thought you all might get a kick out of the rose bush "trellis".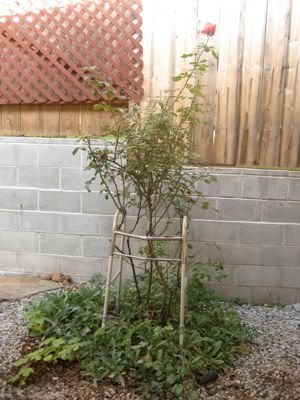 The previous owner was an 80 yo lady who spent all day every day outside in her garden. Her sister gave her the walker. Insulted (as she was still quite spry) she used it to her best advantage - in the garden to prop up the rose bush!
In other gardening news we finally got hit with our first hard frost last night. The nasturtiums and marigolds finally croaked because of it. It was really lovely having flowers for so long though!! I also managed to pull the last head of broccoli a few days ago too. But really we need to winterize now. We're supposed to get snow on Sunday. Bleh.
Well at least winter will give me time to think about next years garden. I've checked out a book on apples - I still can't decide which tree to get and it's too late to plant now so I'm giving myself a deadline of spring to figure it out. I've also been drooling at the seed catalogs. I got one that was all tomatoes. DANGEROUS! I realized that two was simply not enough. I'm thinking four to six next year. I can do a whole bed of toms and not feel guilty, right? Right?
The last little bit of gardening news? My sister surprised me by signing us up for a class on natives. It was pretty cool. She's got a lot of work ahead of her - they just bought an acre of land (to build a house on). It's virgin so there's a LOT of planning/landscaping to do. I think she's hoping I'll help her. =)